Looking to transform your outdoor space into a beautiful and functional oasis? Look no further than Alpine Landscaping, LLC! With years of experience and a passion for creating stunning landscapes, we offer a wide range of services to meet your needs, from custom design and installation to regular maintenance and upkeep. Whether you're looking for a new patio, a lush garden, or a complete outdoor living space, our team of experts has the skills and expertise to make your vision a reality. Contact us today to schedule a consultation and take the first step toward a beautiful and functional outdoor space that you'll love for years to come!
What is Hardscaping?
The term "hardscape" refers to all of the landscaping's non-living elements. Non-living elements can include a combination of materials such as a brick patio, a stone wall, or a wooden arbor. Some examples of outdoor space would include outdoor patios, outdoor kitchens, a water feature, stone walkways, retaining walls, and outdoor living spaces.
We can create a custom hardscape design with other additional features like pergolas, gazebos, and natural stone already present in your yard.
Why Should I Add Hardscaping to my yard?
When you have hardscaping installed, it will add interest to your property. It is generally made of wood, concrete, and stone, and can include features such as stairs, retaining walls, walkways, and driveways. Our experts can design and install hardscaping that will completely change the look of your property.
We can show you many options and help you make a decision. This process uses man-made materials, which can complement even the simplest soft landscaping. Many homeowners in Colorado Springs, CO rely on us for their hardscape needs.
What are some of the benefits of hardscaping?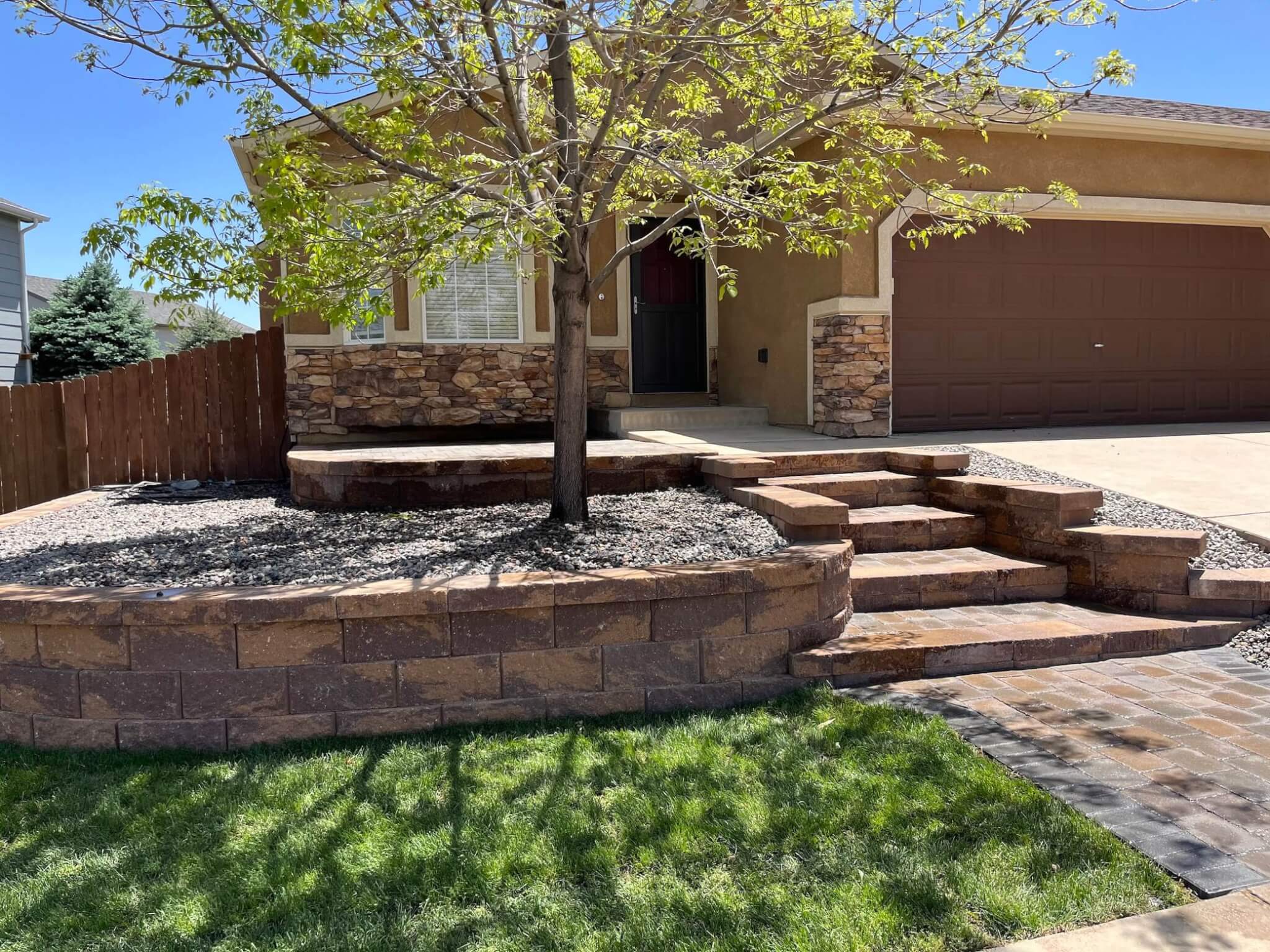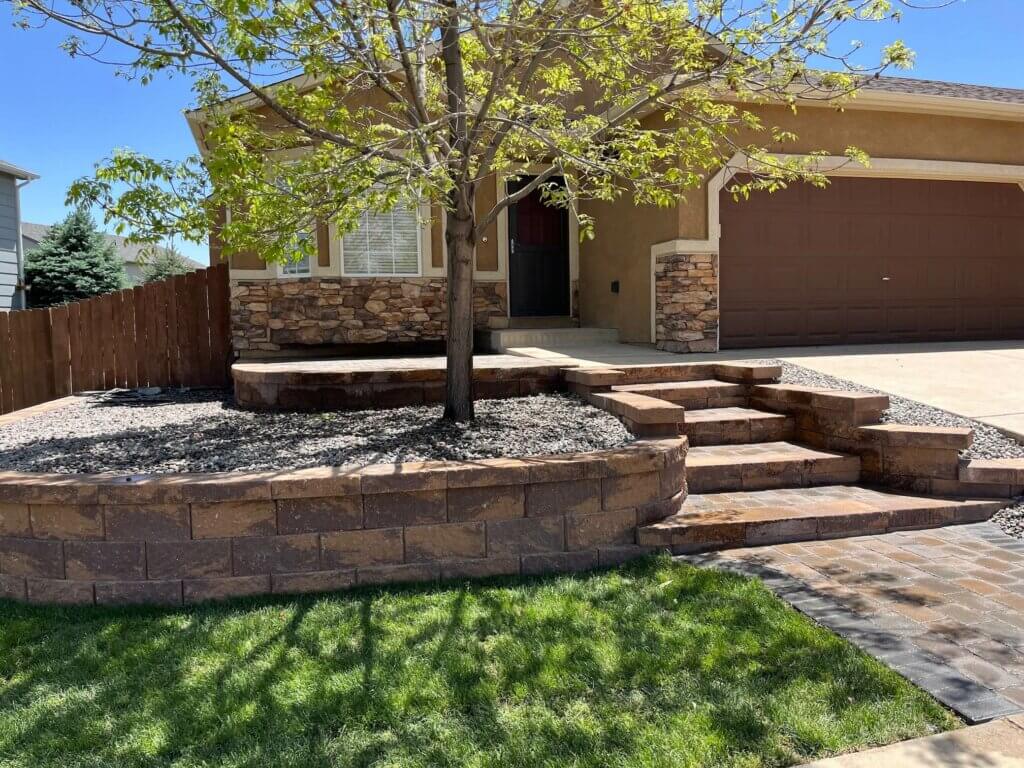 We take pride every step of the way in building your hardscape. Every measurement is double-checked and we draw the project out on your property with environmentally friendly temporary paint to ensure you know exactly what's going on, giving you an accurate representation of your dreamscape.
Here are some of the benefits:
Durability
When it comes to materials, concrete blocks, and concrete pavers are two popular choices for creating retaining walls, patios, walkways, and other features. Both materials have their advantages and disadvantages, but one of the biggest benefits of using concrete blocks and pavers is their durability.
Concrete blocks are made from a mixture of cement, sand, and aggregate. They are commonly used for building retaining walls and other structural features. Concrete blocks are incredibly durable and can withstand heavy loads and extreme weather conditions.
Concrete pavers, on the other hand, are thinner and more lightweight than concrete blocks. They are typically used for creating patios, walkways, and other flat surfaces. Like concrete blocks, concrete pavers are extremely durable and can withstand heavy foot traffic and extreme weather conditions. They are also resistant to staining, fading, and cracking, making them a low-maintenance option for hardscaping projects.
Versatility
Hardscaping materials can be used to create a wide range of outdoor features, including patios, walkways, retaining walls, fire pits, and water features. This allows for a great deal of customization and creativity in landscape design.
Low Maintenance
One of the key benefits of hardscaping is that it eliminates the need for mowing, watering, and fertilizing. This can save homeowners time and money on lawn care, as well as reduce water usage and fertilizer runoff. By using materials that are resistant to the elements and incorporating drainage systems, hardscaping can help to reduce the need for regular maintenance and provide a beautiful and functional outdoor space for years to come.
Increased Property Value
A well-designed hardscape can increase the value of a property by enhancing its curb appeal and creating a beautiful and inviting entrance that catches the eye of potential buyers. Other features such as patios, decks, and outdoor kitchens can increase your property's living space, making it more attractive to potential buyers.
Improved Drainage
Hardscaping can help to control and redirect water flow, reducing the risk of erosion and flooding. Retaining walls can help to control and redirect water flow, preventing erosion and reducing the risk of flooding. They can be used to create terraced slopes that slow down water runoff and encourage absorption into the soil. Permeable pavers are designed to allow water to filter through them and into the ground, rather than pooling on the surface. This can help to reduce runoff and promote natural water filtration.
Eco-Friendliness
Hardscape projects typically include materials, such as permeable pavers, can help to reduce runoff and promote natural water filtration, contributing to a healthier environment.
Overall, it can be an excellent way to improve the functionality, aesthetics, and value of outdoor spaces.
Schedule an Appointment
Learn more about our owner and get a quote today to get your custom hardscape design created. Our team at Alpine Landscaping LLC is always ready to help you out with your professional landscape needs.