If the kitchen is the communication hub of a home, then your yard is where friends and family come together to freely enjoy each other's company. But when you have a grass lawn filled with holes, torn grass, and divots, it can thwart the enjoyment of your outdoor area. Artificial grass has been utilized for years to replace natural grass lawns at both residential and commercial properties.
If you're a homeowner wanting to fall back in love with your outdoor space again or a hospitality venue considering a refurbishment of your grounds, the benefits of artificial turf mean that you have a green, vibrant space that you can enjoy all year-round. Homeowners also make use of several square feet of turf grass at the front of their property to boost their curb appeal.
Overview of Artificial Grass & Xeriscaping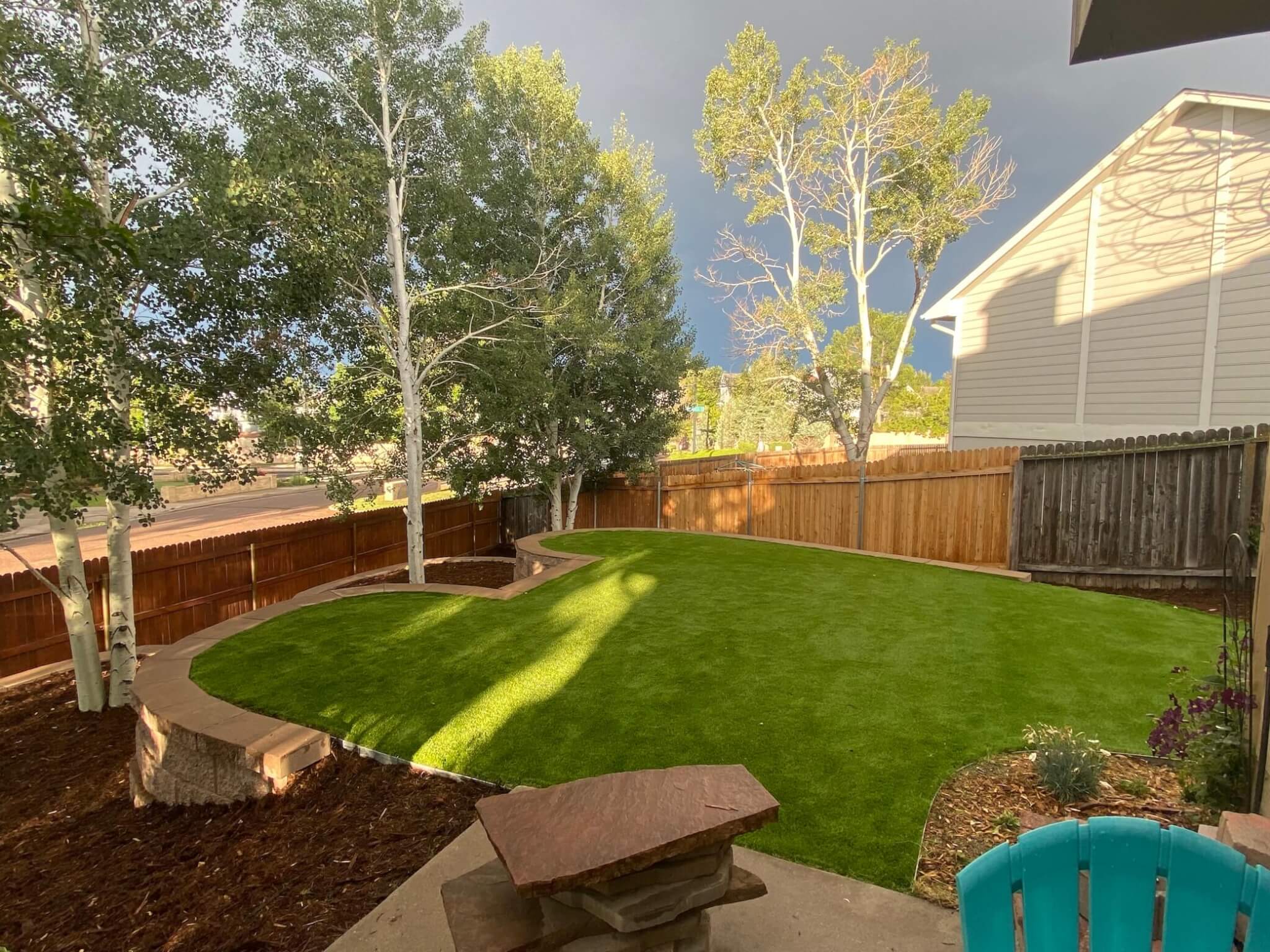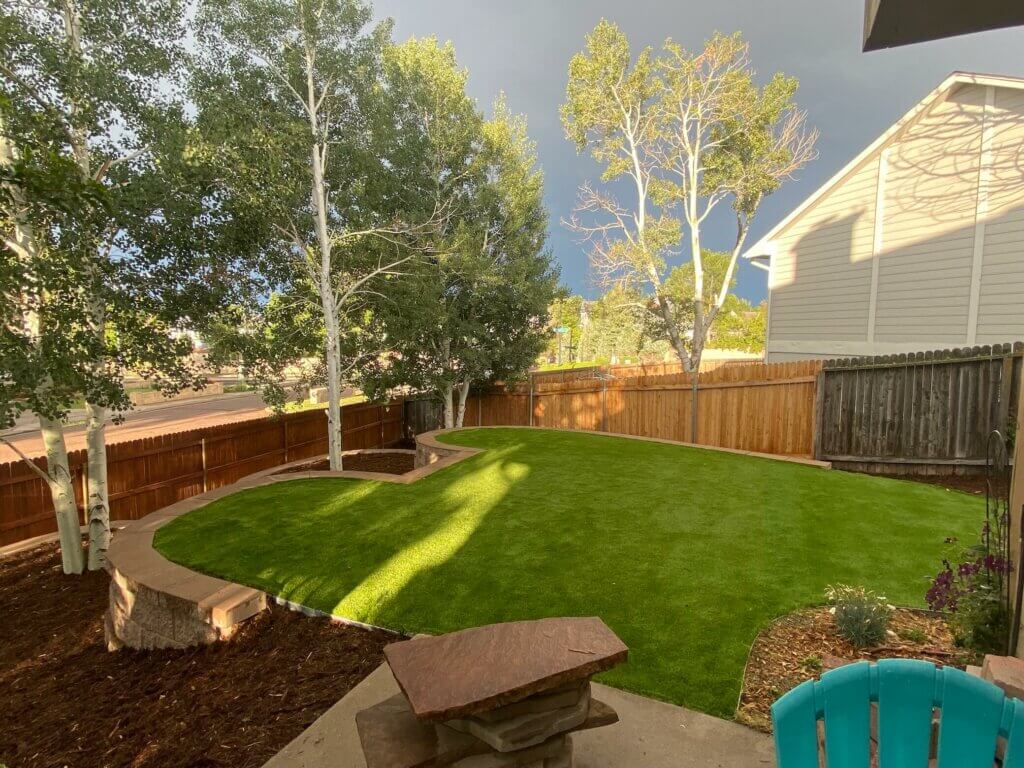 Developed in the mid-1960s as a surface for sports fields, artificial grass has progressed over the decades and no longer bears a resemblance to the fake-looking plastic creation it once was. Artificial turf is a synthetic ground covering that is made to look like real grass.
Whereas xeriscaping is the movement of gardening or landscaping with slow-growing, drought-tolerant native plants that use less water. Xeriscaping creates green spaces that need low maintenance and irrigation and promotes biodiversity. Mulch is often utilized for this reason in xeriscaping.
Both artificial grass and xeriscaping are brilliant options for homeowners conscious of water conservation in Colorado Springs.
What are the Benefits of Artificial Grass?
If you're a homeowner thinking about making the leap from natural to artificial turf, you'll want to ensure that the benefits of your new synthetic grass lawn are worth the transition. Fortunately, the benefits of artificial grass are abundant and it's easy to see why.
Long life expectancy
Homeowners may be deterred from installing artificial grass on their property as they may be concerned about having to replace it. However, when properly maintained and used appropriately, good quality artificial turf will last between 15 and 20 years, even with daily use.
No discoloration, patchiness, weeds, or mud
Natural grass is particularly sensitive to environmental conditions, which can result in patchiness and discoloration. By utilizing artificial grass on your property, you'll eliminate these problems and have a clean, consistent green lawn all year-round.
No allergy aggravation
A large population of Americans are hay fever suffers, but as artificial grass isn't a natural substance, it's completely hypoallergenic.
What are Some Disadvantages of Artificial Turf?
At Alpine Landscaping LLC, it's important to us to always be open and honest with our customers so that you're best informed when it comes to making your decision about installing artificial grass. Let's have a look at the disadvantages for homeowners to consider in their landscape design.
Surface heat
Synthetic grass doesn't have a natural cooling effect like natural grass does, because of it this artificial grass holds a lot more heat. It may feel hot to the touch in the height of summer in Colorado Springs. We recommend looking for artificial turf that has special cooling properties and choosing a lighter color blade that will help keep the turf cooler.
Upkeep
You won't have to use a lawn mower anymore, but your synthetic grass still needs care to keep it looking appealing. You need to sweep or spray the synthetic grass to remove debris that falls onto the surface, however, this is typically low maintenance.
Not all artificial grass is created equal, and this is probably the most important factor to consider when weighing up the pros and cons of artificial turf.
5 Reasons to Consider Artificial Grass Over Xeriscaping
Synthetic turf is easy to maintain, requires no irrigation, and is as beautiful up close as it is from a distance. As discussed, xeriscaping usually involves no natural grass and is instead made up of native plants, succulents, and drought-tolerant shrubs.
So, how do you pick between the two options? Here are 5 reasons for homeowners to consider high-quality artificial turf for their property over the hardscaping alternative.
Drought resistant
Unlike xeriscaping, which does require some watering, artificial grass requires no water use. Homeowners won't need to worry about trying to find the means to water their synthetic lawns in the event of a drought.
Pet and children-friendly
There's no denying that fake grass is a safer alternative to gravel when it's playtime for your children and pets. An artificial grass lawn features the safety of grass whilst eliminating the mess created by mud and grass stains. Plus, it can cope with high foot traffic and still look great!
Low maintenance
Once your synthetic grass is installed, it costs nothing to be maintained! It's durable and does not wear out in high-traffic areas, plus it requires no lawn mowing, fertilizing, or aerating. Homeowners will enjoy little lawn maintenance.
Environmentally friendly
Natural grass needs the use of fertilizers, pesticides, and weed killers for overall maintenance, as does xeriscaping to a less extent. Artificial grass' environmental impact avoids the addition of chemicals to the local ecosystem and protects you, your children, and your pets from the effects of these fumes and unnatural products.
Saves money
Once installed, an artificial lawn means that you won't be required to spend money on maintenance products for the general upkeep of your yard. Homeowners can enjoy the benefit of lower water bills as they won't ever need to habitually water their artificial grass lawns.
Schedule a Free Consultation with Alpine Landscaping
If you're a homeowner looking to save money and use less water, or if you're looking to ditch the traditional lawn and seek an environmentally friendly artificial grass lawn, working with an expert at Alpine Landscaping LLC can help. Get a free quote for our high-quality artificial turf installation services in Colorado Springs and nearby areas.